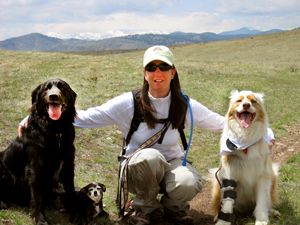 Dances with Woofs' instruction is unique and comprehensive in that Jen teaches a large variety of behaviors and manners through the use of motivational methods. Her training is personalized to the needs of each family and dog - there is no "one size fits all" solution.
Each course includes problem behavior solving, vet handling skills, and fun tricks.
Advanced training is available. Advanced training varies due to the needs of the dog and owner. It may include advanced obedience, additional distraction work, or skilled tricks.
The following cues are taught in both puppy and adult classes. Additional behaviors are taught as needed or just for fun:
Watch
Sit
Sit / Stay
Down
Down / Stay
Go to Your Bed
Wait on Leash
Loose Leash Walking
Heel / Automatic Sit
Wait at Doors
Off
Move
Leave It