Age:
Seven weeks to Six months
Course Length:

Six weeks
Class Duration:

1 to 1 ½ hours per session
Goals:

Solve Behavior Problems
Teach Basic Obedience Manners and Leadership
Bond Development
Provide Owners with the Skills to Get Through the Difficult Puppy Months
Developing a Puppy's Ability to Learn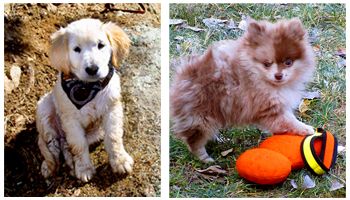 Just as a parent wouldn't think of not sending their children to school, your puppy will need instruction to become a well-mannered, well-behaved adult dog. Our instruction will solve and prevent behavior problems, teach basic obedience and leadership skills, and help you and your family develop a lasting bond with your dog. We provide owners with the skills they need, to get through the difficult puppy stage by addressing problem behaviors such as hand biting, jumping, house soiling and stealing.
Watch
Sit
Sit / Stay
Down
Down / Stay
Go to Your Bed
Wait on Leash
Loose Leash Walking
Heel / Automatic Sit
Wait at Doors
Off
Move
Leave It